Priority in plant production is land for us. At present, we have 5250 hectares of an agricultural land in LPIS in four centers – Krásná Hora nad Vltavou, Petrovice, Třebsko and Haklovy Dvory. Among these centers there are differences in the type of soil (light – sandy, heavier – clayey), in an altitude (250 to 550 m a.s.l.) and in precipitation totals (400 to 700 mm/year), so the works can be organized to follow.
At present "thanks" to the EU subsidy system and support for non-agricultural production functions, we lose lands, especially in the area around Drážkov. We lose land also because of a growing built-up area around České Budějovice nad Příbram. We try to buy land from private owners and increase rent to prevent it. Unfortunately, realities or individuals also try to buy land, and although they don't offer higher prices than we do, they are making use of people's ignorance of land prices. Every single owner of land should realize that he sells land only once, and also in case of lease is not certain that EU policy will be so generous in the future (see Brexit).
Area of cultivated land
            Total

5 250 ha 
100 % 

Of which

Arable land
3 578 ha 
68 % 
Meadows and pastures
1 672 ha 
32 % 
Structure of crops on an arable land
| | | |
| --- | --- | --- |
| Cereal grains | 1 553 ha | 43 % |
| Oilseeds | 562 ha | 16 % |
| Fodder crops | 1 315 ha | 37 % |
| Legumes | 122 ha | 3 % |
| Others – Lacy Phacelia, biobelts | 26 ha | 1 % |
Now to the way of cultivating land. The priority for us is to maintain soil fertility and prevent soil erosion. In the area of anti-erosion measures, especially in the cultivation of wide row crops (corn, sorghum) we use catch crops (lacy phacelia and rye), which we sow in the autumn, and next year in spring we sow corn in these catch crops. We also use precision farming technology – guiding machines using GPS coordinates. This technology is used especially for belt processing where a special machine – striger cultivates roughly 15 cm of width of the row and in this way cultivated rows we sow corn, again using GPS. Other anti-erosion measures includes the distribution of larger sloping plots using biobelts, belts of oat, sowing on contour line, fertilizing by organic fertilizers (manure, liquid manure) which do we have enough thanks to large livestock production and biogas stations. These measures, together with liming, help in water retention in the countryside because water management is another priority in plant production. 
Average hectare yields
| | |
| --- | --- |
| Wheat | 6 t/ha |
| Rye | 5 t/ha |
| Winter barely | 5 t/ha |
| Spring plants | 4 t/ha |
| Rape | 3,5 t/ha |
| Corn – grain | 8 t/ha |
| Corn – damp grain | 10 t/ha |
| Corn - silage | 30 t/ha |
In cooperation with municipal authorities we help to clean ponds, treat the banks of ditches, so they do not fill and in the winter we repair the field roads on which we drive and we cut trees around them. Upon agreement with mayors, we also renew old, unused roads. It is also in our interest, because otherwise people ale driving on our land.
In spite of these activities, we are increasingly confronted with the misunderstanding of people who lose their relationship with agriculture, and they are increasingly complaining on our machines, which are dusty, smelly, big and disturb them in the weekends. However, these people do not understand that when the weather is nice, the farmer must work in time when others rest at home. 
Center Krásná Hora nad Vltavou
Center Krásná Hora manages 2380 ha - of which 1530 ha are arable land and 850 ha of permanent grassland. The center is highly focused on livestock production, so we also try to produce enough animal feeds and also for the biogas station in plant production. We grow corn for silage, alfalfa, clover, legume mixes and we try to intensely use permanent grassland. From other crops we grow wheat, winter and spring barley, rye, rape, peas and lacy phacelia. For fertilization we use waste products from biogas station and we increase the proportion of organic matter in soil. We also try to scale the land to maintain favorable soil pH. We use modern technologies like striptill - using GPS for sowing, spraying and fertilizing, during harvesting. The system of minimization we use for corn and wheat, we use catch crops. Conventional technologies are used in the digestion of organic matter.
We have post-harvest cropping equipment - a post-harvest line, a belt dryer and a desiccant dryer. For storing we use the towers and the former potato-harvesters in Krásná Hora and in Drážkov, for hay we have 2 haylofts in Krásná Hora and in Hojšín. For storing strawstacks we have 2 halls in Krásná Hora.
Farm Petrovice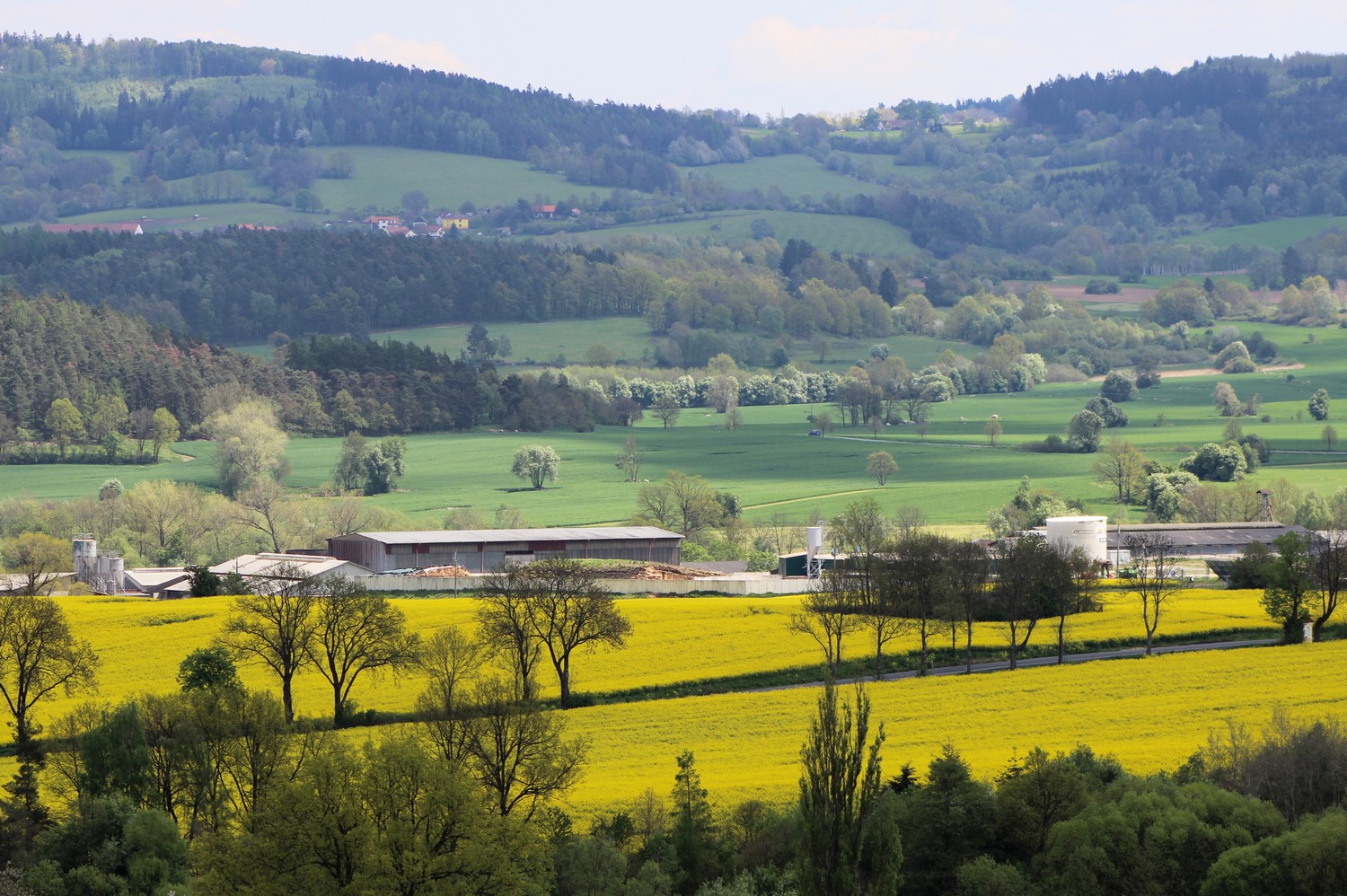 The farm Petrovice has about 1430 ha, of which 500 ha are permanent grasslands. On 930 ha of arable land we mainly grow corn, legumes (lupine, peas), winter barely, winter wheat, naked oat, rye, sorghum and alfalfa. The plant production is focused on the production of feed to cover high demands on the operation of the biogas station and on the feed rations of high-yield dairy cows, because the company is focused on milk production.
We use state-of-the-art technologies and procedures on the farm, we use cooperation with Research Institute for Soil and Water Conservation, the Czech University of Life and Sciences, South Bohemian University and KWS osiva s.r.o.
When growing wide row crops (corn), we focus not only on production, but also on the protection of soil against water erosion using soil protection technologies – sowing into the catch crop (lacy phacelia) and strip-till processing. We also present soil protection for corn cultivation to other companies under the Demofarma program, which is sponsored by the Department of Agriculture.
Farm Třebsko
The farm Třebsko has 878 hectares, of which 160 ha are permanent grasslands and 718 ha are arable land.
On arable land we grow five major crops – winter barely, winter wheat, winter rape, spring barely and corn. On most arable land the system of minimization , but under the spring crops are plowed.
In the stable in Narysov, which is under our farm, we have 110 pieces of meat of cattle. Most of the year is cattle on pastures, only at the time of giving birth stays in stable.
There are three permanent employees that take care of organize and of meat cattle. In the field work the farm is reliant on employees from Krásná Hora.
Farm Haklovy Dvory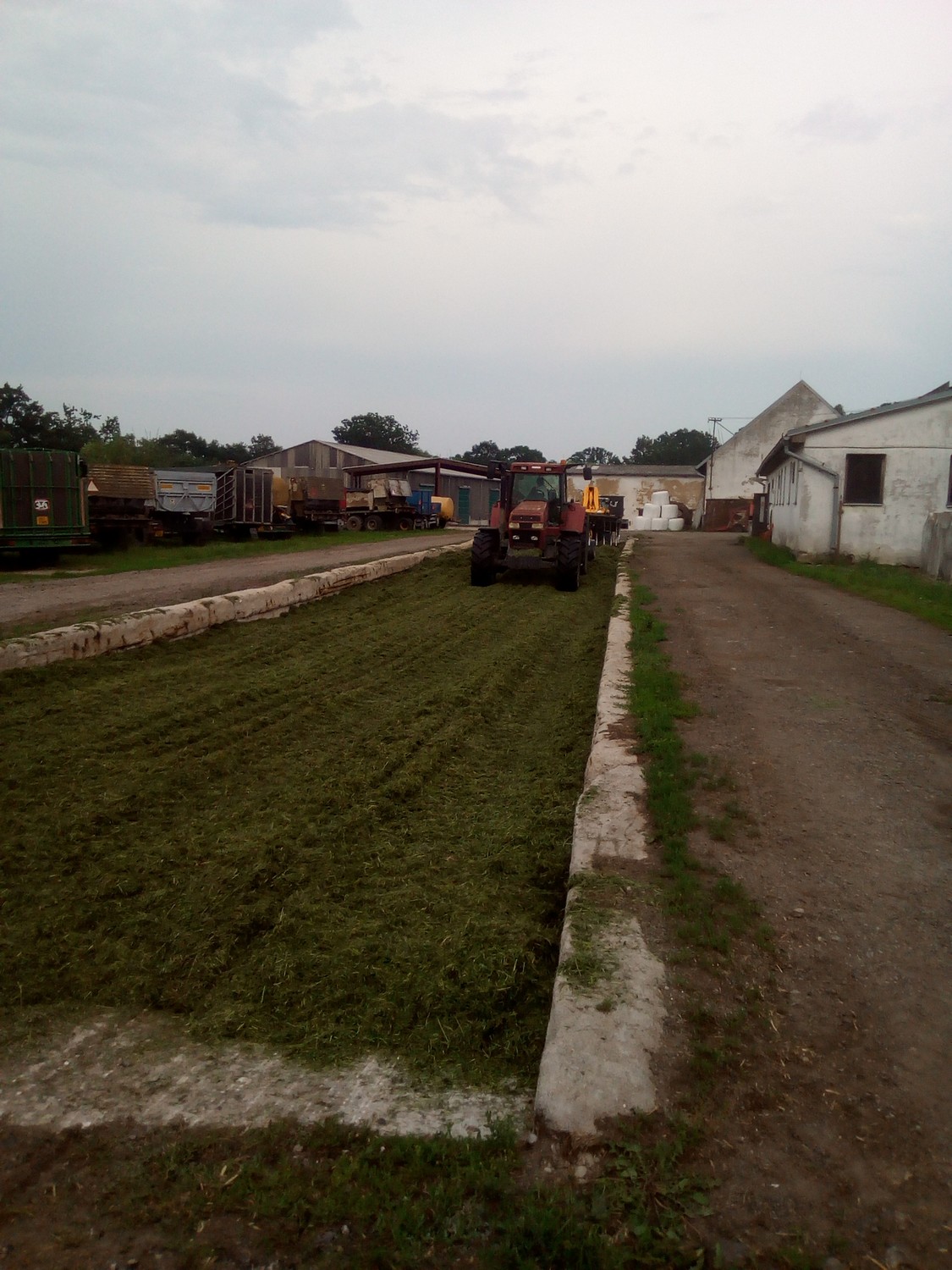 The farm Haklovy Dvory is a former University farm of the Faculty of Agriculture of the University of South Bohemia in České Budějovice. Its location is situated on the outskirts of the city of České Budějovice at an altitude of 380 m. The lands which are managed by ZD Krásná Hora are located in seven cadastres, often in the urban area. We manage on 394 hectares of arable land, 163 hectares of permanent grasslands and 40 hectares of arable land in G-management. There are grown cereal grains, corn for grain and for silage, protein crops and catch crops (lacy phacelia) on the arable land.
There are two stables on the farm, where a complete reconstruction is currently (summer 2018) under way. There is planned breeding of suckler cows, about 75 mothers and about 80 LSU for fattening young cattle. Both stables are made of grain straw. The manure is used in plant production as a good organic fertilizer. In conjunction with the cultivation of the stump catch crops, organic matter is returned to the soil, which is indispensable from the viewpoint of plant nutrition and increased ability to attach water to the soil. This was ZD Krásná Hora nad Vltavou seeks to preserve the long-term fertility of the soil and not to reduce its economic and financial value.
In conclusion, despite all the problems we manage to maintain new trends in plant production and the results we achieve are at the level of better businesses in our area, which is affected by drought more than in most other regions of the Czech republic. Yet we still have reserves and space for improvement, one is still learning and he can not stay in development and succumb to satisfaction.